Who says that you cannot believe all you read in newspapers. You may remember the Daily Mail blood pressure monitor review that was carried out back in 2006. Well they have done it again, only this time using the UA-767's more modern version, the UA-767Plus30, and A&D achieved the highest rating with a score of 9/10. Eight monitors were selected from six different manufacturers and all were tested on the same patient by Professor Avijit Lahiri, Medical Director of the British Cardiac Research Trust.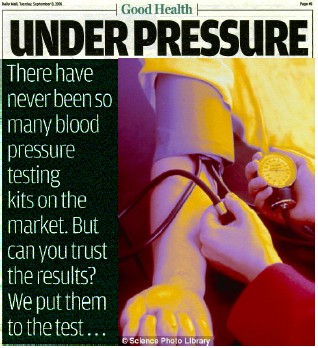 We do not mind the patient's comment that the UA-767Plus"looks basic" because the report also acknowledged that it was "easy to use" and that must be of paramount importance to the user. The verdict also recognised the benefits of showing the average of all the readings taken.
The Doctor's verdict confirmed his satisfaction with the accuracy of this monitor, which is A/A validated to the BHS protocol, and confirmed the benefits of average results. Medical professionals clearly recognise the need to only use clinically validated blood pressure monitors and they are trying to get this message across to home users and well done to the Daily Mail for supporting this action.
The article also gave some valuable instructions to the home user on how to take blood pressure readings to get accurate results with special consideration to the effects of body position, ambient surroundings, food or coffee intake and cigarettes. These and other factors can have a significant effect on one single reading so there is more value in average readings over a period of time.
Unfortunately you may have problems getting a back copy of the Daily Mail from 8th September 2009 but you can still find a summary on www.dailymail.co.uk/health.